Responsive Web Design
Keeping your business' website fresh and up to date is always a good idea, and if you think you might be ready for a responsive web design. This means creating one responsive website that works perfectly across desktop, tablet and mobile to create a truly seamless and beautiful visitor experience. We can also cater to your customers' unique needs on every device by creating completely custom layouts for each screen size and adding the appropriate business-driving features, like click-to-call, mobile maps, reservation widgets and more. If you'd like to talk about improving your digital presence, simply contact us for more information.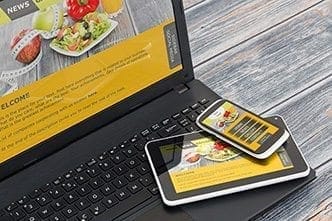 Creating a strong mobile web presence is critical to doing business in today's world. Your customers on the go need your site to look great on the small screen of a smart phone, be simple to use and provide all the information they're looking for up front with a mobile web design.
Did you know 73 percent of mobile searches trigger an additional action like making a phone call or visiting a business? This means maintaining a beautiful mobile friendly website with one-click features, like click-to-call and mobile maps, can be a huge boost to your bottom line.
The power of the mobile web comes from being able to put everything your customers need right at their fingertips. Our features and platform integrations are designed to do just two things: increase convenience for your customers and sales for your business.
We can take your current desktop site and create a fantastic mobile version that will generate leads and drive sales like nothing else.
If you'd like to talk about making your website mobile friendly, simply contact us and we can discuss your needs and the best mobile solution to help you capture more customers and make more sales.
Google Requires Business Owners to Have Mobile-Friendly Websites Or Responsive Websites
Google takes having a mobile-friendly website into account as a ranking criteria in Google searches. This means websites that are not mobile-friendly will be negatively impacted in their search ranking and organic traffic, but sites that are compliant will maintain their ranking or see a boost! This decision was made because more than 50% of consumers who search online for products and services use mobile devices.  Google wants this to be an easy process for users and having mobile-friendly responsive websites simplify the process of viewing websites.
Since many small business owners are unaware of this fact, this could give businesses that have mobile-friendly websites a competitive edge over those who don't.
What Is A Mobile-Friendly Website?
A mobile-friendly website is a dedicated site that is specifically designed to be viewed on a smartphone. It is separate from the desktop version. When a visitor finds your website in a search or types in your web address/URL, they will be redirected to the mobile version automatically.
How Can I Find Out If My Website Is Mobile-Friendly?
Google has a simple tool you can use to determine whether or not your website fits their mobile SEO requirements. Simply go to Google's Mobile-Friendly Test and enter your URL. They'll let you know if there are any issues. If your website does not meet the requirements, we would love to help design a mobile-friendly website for you.
TK Internet Marketing offers Google-compliant mobile website design and responsive website design services for business owners who don't have time to build their own website.  Your time is very valuable, especially in today's business environment. That's why we take this time-consuming project off your plate.  We design modern, visually appealing, and user-friendly websites that can be viewed seamlessly on computers and any mobile device.  When you hand your website design over to us, you can have peace of mind that it will be done by highly-trained, highly-skilled, and knowledgeable website designers who have been in business since 2003.   We provide website design services for business owners in McKinney, Allen, Plano, Frisco and other Colin County cities.