The most cost-effective way to connect with customers and prospects!
Email marketing is good for your business. $38-back-for-every-$1-spent kind of good. And with a tool as powerful and easy to use as Constant Contact, you don't need to be a marketing expert to see results.
(Direct Marketing Association)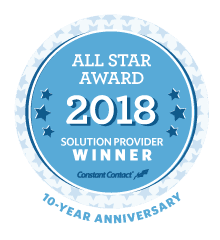 TK Internet Marketing is a award winning Solution Provider with Constant Contact—the leader in small business online marketing.  We can provide you with an unprecedented level of service and expertise for all of your email marketing campaigns, event management, and more.
As a Constant Contact partner, we've got the expertise to help you create targeted online marketing campaigns that reach your customers and prospects in all the places they are: email, social, web and mobile.
We realize that marketing isn't your full time job. We can save you time and reach your goals by bringing all of your online marketing together in one convenient place so that you never miss an opportunity to find new customers or engage the ones you have.
Our marketing expertise can help you engage your current customers, while attracting new ones. Rely on us to save time and money, so you can focus on what you do best: running your business and building great customer relationships.
Whether you're looking to engage your customers, build your audience, drive sales or donations, or increase your overall brand awareness, TK Internet Marketing has the online marketing expertise to help you succeed.
Contact us today to learn more about how we can leverage the power of Constant Contact to help your business succeed.
Supporting statements from a MeasuringU 2017 study:
Constant Contact Commercials